Our meetings are online (Zoom) for now, but as conditions improve, we're easing into some in-person meetings. Meanwhile, you can join our meeetings from anywhere. That's been a great benefit of this difficult time--enjoying offerings from many other Sisters in Crime chapters nationwide.
We've got a great line-up this year. We hope you'll join us.
October 15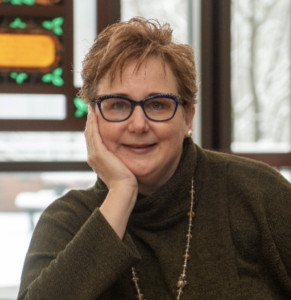 Getting Your History Right: Medical Practices in Historic London
Dr. Noel Kerr
If you write fiction with historical elements, you'll want to hear Dr. Noel Kerr's talk on historical medical practices in London. Dr. Kerr leads a trip to London affectionately called "The Medical Mystery Tour." This talk will follow topics in her tour, including the evolution of medical practices in London, war-related traumatic injury, treatments for mental illness and epidemics such as The Plague and cholera. She'll show some of the historical devices and practices in use over time. When she's not teaching, Professor Kerr works as a consultant on medical practices for authors and screenwriters.
To register for this Zoom session, click:
https://sistersincrime-org.zoom.us/meeting/register/tJYlcuusrD0tH9WNMFS924awFgEuUQmORqtw
November 19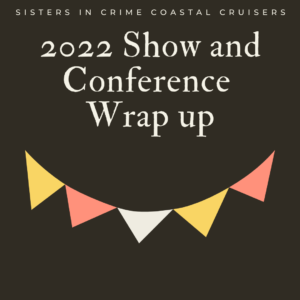 2022 Show and Conference Wrap-up
Join us as we share highlights from book, mystery and indie author shows and conferences from the year. Come share what you've learned from shows you've attended this year. A Kindle reader will be given away as a door prize to one lucky attendee.
To register for this Zoom session, click:
 https://sistersincrime-org.zoom.us/meeting/register/tJEodOCuqDIoEtySyWCvUvHqFFQTCQB9FQqO
December 3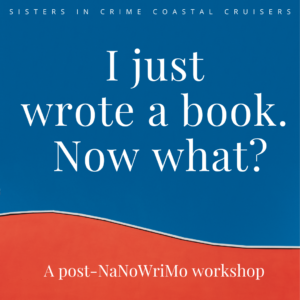 I Just Wrote a Book. Now What? 
Multi-series authors Shelley Adina and Alec Peche will give tips on what to do next with the book you've just written. Especially great if you've just written a book for National Novel Writing Month! Shelley and Alec will show you the ropes when it comes to editing and publishing, whether traditionally or indie/self published. All genres welcome.
To register for this Zoom session, click:
https://sistersincrime-org.zoom.us/meeting/register/tJckce6tqzsoE9XWyPMCr-fecrDbw2nW8kS_