Talks and events
to inform and support

We chose talks this year with the goal of doing what Sisters in Crime is known for: promoting our authors' careers.
Our meetings are mostly online for now, but we're easing into some in-person meetings. We're all looking foward to that!
Meanwhile, you can join our meeetings from anywhere. A nice benefit of this difficult time--enjoying offerings from many other Sisters in Crime chapters nationwide.
Upcoming meetings
All meetings are 10:30-noon PT, unless specified otherwise
November 18
2023 Show Wrap-up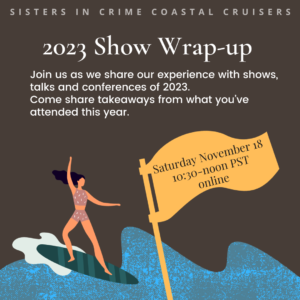 In 2023, as things continued to open up, we went to more shows and conferences. On November 18, we're sharing what we've learned from these shows. We'd love to hear your takeaways from shows you've attended, too. Join us! Click on this link to register for this online session of knowledge pooling:
https://sistersincrime-org.zoom.us/meeting/register/tJUkf-6vqjkuHtUAN33hkK5FRjCqztUhHnOU
Sunday, December 3 - 1 pm
Coastal Cruisers Holiday Party!
If you're a CCer, join us for an in-person lunch In Los Gatos, on Highway 9 at Hercules Draft House and Cantina. RSVP to Victoria at [email protected]