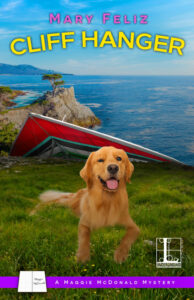 When a hang-gliding stranger is found fatally injured in the cliffs above Monterey Bay, the investigation into his death becomes a cluttered mess. Professional organizer Maggie McDonald must sort the clues to catch a coastal killer before her family becomes a target . . .
Maggie has her work cut out for her helping Renée Alvarez organize her property management office. Though the condominium complex boasts a prime location on the shores of the Monterey Bay National Marine Sanctuary, aging buildings and the high-maintenance tenants have Renée run ragged. But Maggie's efforts are complicated when her sons attempt to rescue a badly injured man who crashed his ultra-light on the coastal cliffs.
Despite their efforts to save him, the man dies. Maggie's family members become the prime suspects in a murder investigation and the target of a lawsuit. Her instincts say something's out of place, but solving a murder won't be easy. Maggie still needs to manage her business, the pushy press, and unwanted interest from criminal elements. Controlling chaos is her specialty, but with this killer's crime wave, Maggie may be left hanging . . .
"A skillful amateur detective with an impressive to-do list." —Kirkus Reviews, STARRED REVIEW, Address to Die For